One of the hottest trends with mobile devices is for designers to push the limits of traditional gadgets with new hybrid products. This is the case with the new Lenovo Yoga 2 Pro; it's a hybrid between a laptop and a tablet running full Windows 8.1 OS. Here's a review on our favorite way to do Yoga.
1 Device, 4 Possible Positions
The name Yoga is suggestive of the device's most stand-out feature; its ability to transform into four unique and usable positions. These are, clamshell laptop, tablet, stand, and tent. Each one of these positions allow the device to be used in a completely different way, which makes it feel like you're getting four separate devices for the price of one.
Thanks to a double-hinge design, the device is able to quickly and seamlessly transition from each position, and the screen and keyboard settings will automatically adjust to its new function. With a simple flip of the keyboard, the Yoga design is perhaps the quickest way to go from laptop to tablet, and the Yoga 2 Pro includes upgrades from the previous model (thinner, lighter, more powerful) that are worth getting excited about.
Click the images below to enlarge.
Specs
One of the most dramatic improvements is the screen, which is a respectable 13.3-inch diagonal screen and boasts an impressive 3,200 x 1,800 ultrahigh native resolution (upgraded from the 1,600x900 display of the previous Yoga model). The Yoga 2 Pro comes loaded with an Intel fourth generation Core i5 processor, 4GB of RAM, a 128GB solid-state hard drive, and it's priced at just over one grand. If you're willing to pay more, you can get the Yoga 2 Pro with 8GB RAM, an i7 processor, and 256 GB SSD, and the premium model come with a 512GB hard drive. Other features include:
Micro-HDMI Video
1 USB 3.0, 1 USB 2.0, SD card reader
802.11n Wi-Fi, Bluetooth
Windows 8.1 OS (64-bit)
No Optical Drive
Dimensions: 12.99" x 8.66" x 0.61"
Weight: 3.06 lbs
Built for Everyday Use
The Yoga is perhaps the most durable convertible device on the market. Lenovo went with two full-length hinges that have been rigorously tested. This is a huge advantage over other convertible models that have a single rotating center hinge which ends up being a weak point. The Lenovo Yoga 2 Pro is much better suited to handle the stresses of everyday use.
One design aspect that a user looking to use the Yoga primarily as a tablet may grow tired of is the keyboard being exposed on the back side. This design can put the keys at risk from drops, spills, and bumps (the keyboard deactivates in tablet model). In order to prevent damage, Lenovo laid out the keys so they sit slightly below the surface that you rest your wrist on. The flat-topped island-style keyboard has also been improved with a backlit feature, and much used buttons like volume control and the rotation lock are located on the side of the device.
Out of the four Yoga positions, one of the handiest is "the stand." This lets you use the keyboard as a secure base and display the screen at 270 degrees or more. This position turns the device into a kiosk which makes it great for presentations and perfect for watching media because it lets you scooch the device right up to the edge of the table.
The Yoga 2 Pro has a battery life that's slightly better than similar devices on the market. Thanks to the an improved current-gen Intel Haswell processor designed to increase battery efficiency, the Yoga 2 Pro has the ability to play 7 hours and 10 minutes of video on a full charge. This is more than enough power to get you through the workday, and the power cord brick is a manageable size, which means it takes up less space in your travel bag.
2 Problems with the Yoga 2 Pro
Display issue with Yellow.
There are a couple of problems with the Yoga 2 Pro. The first is an old one regarding complaints with the screen displaying the colors green and yellow. This problem has actually already been fixed and you shouldn't experience it unless you purchase an early model, in which case there's a patch available that will fix it. With this patch, we can confirm that yellow is definitely now yellow.
HiDPI and Adobe Photoshop, Illustrator and Lightroom
The other problem has more to do with Windows 8.1 than with the Yoga 2 Pro. Any high resolution Windows 8 or 8.1 laptop or tablet has issues with certain third party apps (but not all of them) in regards to scaling. A good example of this issue is seen with Photoshop and other Adobe applications where the icons and tools are so small that it's difficult to read them. Macs had a similar issue with their high resolution displays, but it was promptly fixed by Apple's developers.
In regards to this issue being resolved with Windows 8.1 for the Lenovo Yoga 2 Pro, it appears that both Adobe and Microsoft are working on the HiDPI retina scaling issue. Adobe had this to say about it in their forum, "Windows doesn't have Retina style scaling APIs yet, and has some problems in the existing attempt at scaling UIs. We are continuing to work with Microsoft on the scaling problems, but don't have a solution for Windows yet. Photoshop does have UI font scaling, but no way to scale the icons and other UI elements on Windows at this time."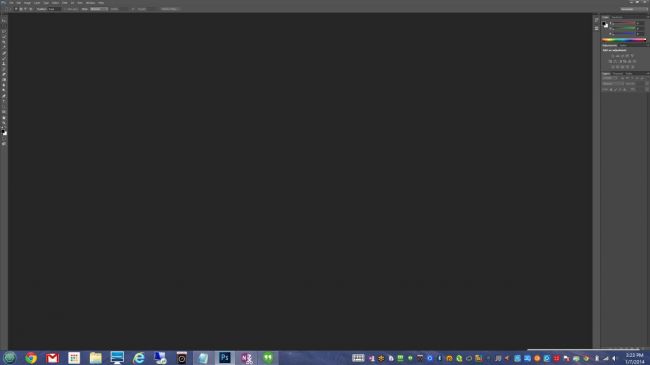 If you are using the Lenovo Yoga 2 Pro and you want to work around the HiDPI retina scaling issue and use it for Adobe Photoshop or Illustrator, then you can adjust the display size by enlarging the scaling to 150% with a 1600x1200 display. Although, upsampling the pixels will make the Adobe program a little fuzzier than what you're used to. In another Adobe forum, an unofficial "hack" to fix the scaling issue is provided by a user from Surfaceproartist.com. This hack (use at your own risk) is designed for the Microsoft Surface Pro, but it seems to solve the scaling issue for the Lenovo Yoga 2 Pro as well. Be sure to use caution when installing fixes provided by third party developers.
This issue may be a show stopper for users that depend on Adobe. The alternative for an Adobe enthusiast that's looking to use their favorite app on a Windows 8 mobile device is to go with a lower resolution model. Although, before you go out and purchase a low resolution device, keep in mind that the issue is being worked on and we suspect that the Microsoft's developers will have it resolved soon. It may be worth it to wait for a fix because the high resolution display is absolutely gorgeous.
Adobe Lightroom scales fine, I can make most adjustments to my photographs in Lightroom but if I want to move over to Photoshop to make more adjustments, I feel stuck.. outta business.
I am suspicious about why Lightroom scales and others don't and who's fault it is, Microsoft or Adobe? There are a couple of shareware apps I run that don't scale either but they are not business critical to me. We feel pretty confident this issue will be resolved in short order.
In conclusion, the Lenovo Yoga 2 Pro is a great buy for anyone looking to get the full Windows 8.1 experience from a mobile device. It's powerful enough to handle any task that your business will need, and its four positions can provide you with a convenient laptop-to-tablet-to-display experience that is tough for competitors to match. Have you used the Yoga 2 Pro, or are you using a convertible device that you think is better? Share your thoughts in the comments!