Oneonta Featured in Motion Picture Altered Hours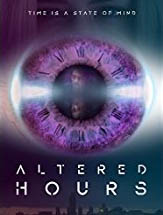 Oneonta, NY - March 23, 2018 - The City of Oneonta is featured on the silver screen.
Altered Hours, a sci-fi thriller filmed in Upstate New York, features footage of Oneonta and the surrounding areas. This footage was captured by local filmmaker, Chris Chase. Chase was approached by Altered Hours director and SUNY Oneonta alum Bruce Wemple, who found a video Chase had directed online, and wanted the rights to the footage for use in his movie. Inspired by the look and feel of the footage, Wemple connected with Chase through Ben Gifford, who coincidentally works for Chase's company, Directive, a local IT & Media company. Gifford acted as First Assistant Camera Operator on Wemple's film.
Gifford, who grew up in Delhi, said, "I had the honor of meeting with the director Bruce Wemple before him and his team started filming this movie. Little did I know it would turn out to be one of the greatest experiences of my life."
Wemple utilized Chase's footage to create transition shots that tie the rest of the film's scenes together. The rest of the film was shot elsewhere in the state, including a few scenes filmed in the Adirondacks.
Chase said he is very happy to see his footage in the film.
"I was thrilled to see how they used the footage in the movie, how it flowed, and how they color-graded it to match the film. You would think they actually shot the movie in Oneonta. Movie magic!"
Altered Hours premiered on March 20, 2018. It is now available to rent or purchase on Amazon Video and other movie sites. Check out the trailer here: Altered Hours Trailer
Chase's original Oneonta Aerial Video, that features images of Main Street, Chestnut Street, and Neahwa Park, can be viewed on his YouTube page: https://dti.io/i8
About the author
Chris is a hopeless Technology Fanatic, an Inbound & Outbound Marketing Expert as well as a Trusted I.T. Advisor, Web, Graphics & Software Designer. When he's not running Directive and JoomConnect he's probably sharpening his skills as an Amateur Photographer and Filmmaker. Chris lives with his wife Charlotte and their 2 sons in Upstate NY. Visit his photography site at www.directivestudios.com.
Comment for this post has been locked by admin.