Kessler Pocket Jib PRO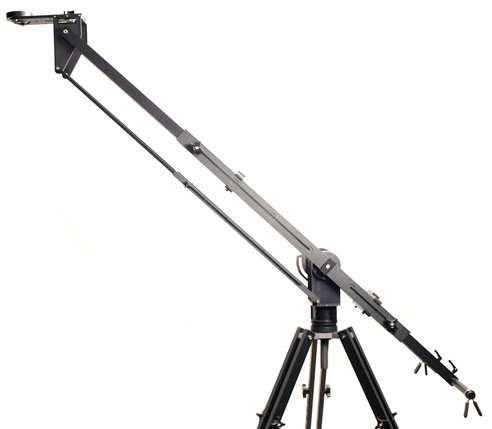 The Kessler Pocket Jib PRO has been designed for a greater weight capacity when larger cameras and rigs are being used. With its heavy duty arms, the PJ PRO can handle up to 50 lbs. in any length configuration. This is perfect for RED's, ALEXA's or any other rig weighing up to 50 lbs. (We recommend the regular Pocket Jib for cameras under 20 lbs.)
The Kessler Pocket Jib PRO is the ultimate compact, portable jib. Not only is this jib fully collapsible for easy transport, but you can also mount the Kessler Pocket Dolly™ or CineSlider™ to it, turning it into a virtual "all-in-one" production tool, offering both a jib and mini-dolly in one unit.
The PJ PRO has a telescopic dual rail arm design that has a maximum reach of five feet, fully extended, which is approximately 6" less than our KC-8 crane. The end of the crane arm features a ball relocator with 100mm bowl, so you can mount a 100mm ball fluid head. The weight bar system is also telescopic and collapses and folds away for easy transport.
The PJ PRO comes standard with the Swivel Mount that allows you to mount the PJ PRO to your tripod using a 100mm levelable ball, 75mm fixed ring mount, or a flat mount. If you would like to mount the PJ PRO to your Hercules 2.0 head, the Swivel Mount can be removed and the PJ PRO mounted flush to the Hercules 2.0 with the tilt locked with the pin lock in place.
Stay Informed
When you subscribe to the blog, we will send you an e-mail when there are new updates on the site so you wouldn't miss them.
About the author
Chris is a hopeless Technology Fanatic, an Inbound & Outbound Marketing Expert as well as a Trusted I.T. Advisor, Web, Graphics & Software Designer. When he's not running Directive and JoomConnect he's probably sharpening his skills as an Amateur Photographer and Filmmaker. Chris lives with his wife Charlotte and their 2 sons in Upstate NY. Visit his photography site at www.directivestudios.com.
Comments
No comments made yet. Be the first to submit a comment