Manfrotto 501HDV Tripod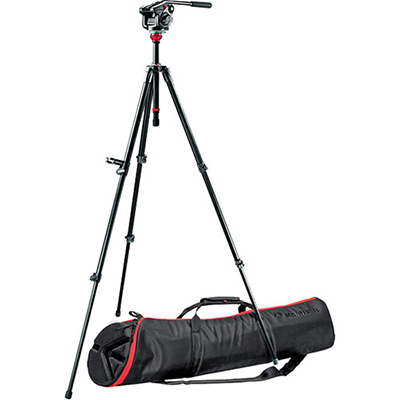 Supporting 11.9 pounds, this Manfrotto tripod holds our primary DSLR camera. It's easy access sliding plate allows you to securely attach your camera quick and easy, which can be critical if you are rushing to get the shot you need. The 501HDV pro rated head gives you the panning and tilting option you might be looking for out in the field. Weighing only 9 pounds, this tripod can breakdown to fit in it's soft carry bag so you can bring it to any location easily!
B&H Link: http://www.bhphotovideo.com/c/product/510207-REG/Manfrotto_501HDV_755XBK_501HDV_755XBK_Video_Tripod_Kit.html
About the author
Chris is a hopeless Technology Fanatic, an Inbound & Outbound Marketing Expert as well as a Trusted I.T. Advisor, Web, Graphics & Software Designer. When he's not running Directive and JoomConnect he's probably sharpening his skills as an Amateur Photographer and Filmmaker. Chris lives with his wife Charlotte and their 2 sons in Upstate NY. Visit his photography site at www.directivestudios.com.
Comments
No comments made yet. Be the first to submit a comment