Tuesday, 03rd October 2023
Pelican Carry On Case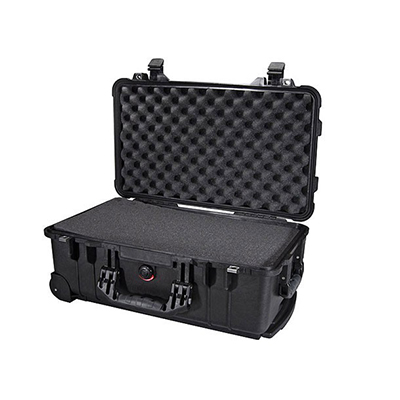 This watertight hard case can help keep your important gear safe during travel. We spend a lot of time shooting outside of our studio, and rely on this case to carry some of our equipment. It's hard shell and foam interior lets us relax knowing some of our equipment is well protected. Because the case weighs over 13 pounds, it can get heavy for some users. But have no fear, the wheels and extendable handle allows you to wheel your equipment around. This is definitely a durable and reliable case that will help get your equipment to any location safely.
B&H Link: http://www.bhphotovideo.com/c/product/330231-REG/Pelican_1510_000_110_1510_Carry_On_Case.html
About the author
Chris is a hopeless Technology Fanatic, an Inbound & Outbound Marketing Expert as well as a Trusted I.T. Advisor, Web, Graphics & Software Designer. When he's not running Directive and JoomConnect he's probably sharpening his skills as an Amateur Photographer and Filmmaker. Chris lives with his wife Charlotte and their 2 sons in Upstate NY. Visit his photography site at www.directivestudios.com.
Comments
1 Immediately confounded with all the accommodating records this is on it. to an incredible degree extraordinary post, precisely what i was watching out and i'm looking for forward to separating your distinctive posts soon. Free to surf college paper writing service
Immediately confounded with all the accommodating records this is on it. to an incredible degree extraordinary post, precisely what i was watching out and i'm looking for forward to separating your distinctive posts soon. Free to surf [url=https://www.collegepaperwritingservices.com]college paper writing service[/url]