Video Production Slate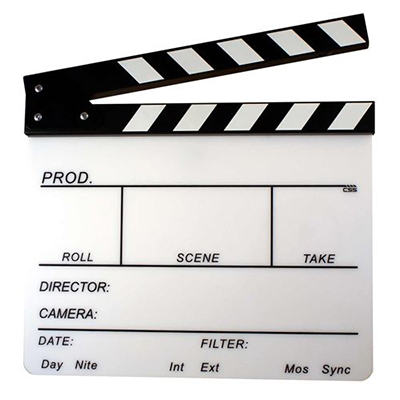 A video slate, or clapper board, can serve multiple purposes in production. When using multiple cameras in a scene, having a slate can help confirm which roll, scene, and take you're looking at in post production. By clapping the sticks together, you can also easily sync multiple microphones as well! Not only can you write and erase easily with a dry erase marker, you can also note who the director and camera operator that are running the production.
B&H Link: http://www.bhphotovideo.com/c/product/292535-REG/Birns_Sawyer_425007_Economy_Dry_Erase_Production.html
Stay Informed
When you subscribe to the blog, we will send you an e-mail when there are new updates on the site so you wouldn't miss them.
About the author
Chris is a hopeless Technology Fanatic, an Inbound & Outbound Marketing Expert as well as a Trusted I.T. Advisor, Web, Graphics & Software Designer. When he's not running Directive and JoomConnect he's probably sharpening his skills as an Amateur Photographer and Filmmaker. Chris lives with his wife Charlotte and their 2 sons in Upstate NY. Visit his photography site at www.directivestudios.com.
Comments
No comments made yet. Be the first to submit a comment