Zacuto Half Cage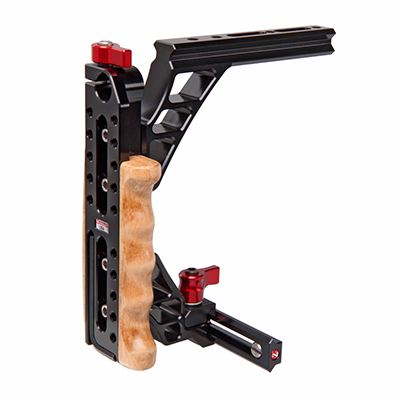 Consider this half cage as our camera's back bone. We rely heavily on mounting several things onto this cage, including our monitor, handheld audio recorder, and of course can connect to our rail system that our Pad Prompter sits on. This hand fitting maple wood handle is easy and light when attached to your gear! You may have different cameras that vary in size. If that is the case, you can adjust the four screws to raise or lower the height of the handle to fit your camera. A must have tool when you need to carry around equipment that could be attached to the camera!
B&H Link: http://www.bhphotovideo.com/c/product/1014498-REG/zacuto_z_hc_half_cage.html
About the author
Chris is a hopeless Technology Fanatic, an Inbound & Outbound Marketing Expert as well as a Trusted I.T. Advisor, Web, Graphics & Software Designer. When he's not running Directive and JoomConnect he's probably sharpening his skills as an Amateur Photographer and Filmmaker. Chris lives with his wife Charlotte and their 2 sons in Upstate NY. Visit his photography site at www.directivestudios.com.
Comments
No comments made yet. Be the first to submit a comment