Zacuto Marauder Foldable Camera Rig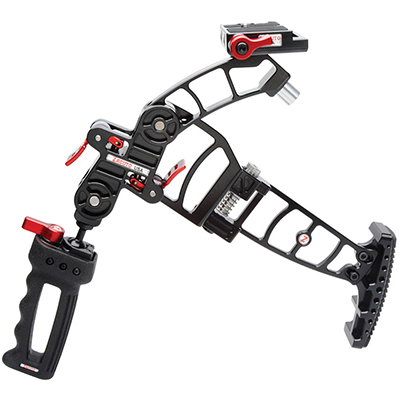 Being able to break down equipment to make it easy to carry is always a bonus. This foldable Zacuto shoulder rig does exactly that. It's gunstock design makes it easy to carry while a DSLR is on top of it, not to mention angle adjustments that allows you to personalize a fit just for you. The single articulating handgrip gives you a molded and comfortable grip for your hand, freeing your opposite hand for what ever tasks you might have to do, such as adjusting the focus, zoom, or even changing camera settings. A great tool to help hold your DSLR for whatever shot you need.
B&H Link: http://www.bhphotovideo.com/c/product/997526-REG/zacuto_z_dmr_dslr_marauder.html
Stay Informed
When you subscribe to the blog, we will send you an e-mail when there are new updates on the site so you wouldn't miss them.
About the author
Chris is a hopeless Technology Fanatic, an Inbound & Outbound Marketing Expert as well as a Trusted I.T. Advisor, Web, Graphics & Software Designer. When he's not running Directive and JoomConnect he's probably sharpening his skills as an Amateur Photographer and Filmmaker. Chris lives with his wife Charlotte and their 2 sons in Upstate NY. Visit his photography site at www.directivestudios.com.
Comments
No comments made yet. Be the first to submit a comment